Council of Catholic Women
Summary: St. Helen CCW supports, educates, and empowers all Catholic women in spirituality, leadership and service. Our programs respond with Gospel values to the needs of the Church and society in the modern world. St. Helen CCW is an affiliate of the National Council of Catholic Women, the Florida CCW, and the Palm Beach Diocesan CCW.
Events & Activities: St. Helen CCW serves and supports our community in various ways throughout the year. Our CCW fundraising events include the Fall and Spring Card Parties, a Spring Fashion Show and Chocolate Sunday. Our donations and fundraising funds have benefited the Back to Basics / Angel Program, Samaritan Center for the Homeless, Women's Care Center, St. Helen Harvest Festival, St. Helen Catholic School (Adopt and Class & Scholarship fund), Outreach, Youth on a Mission, and St. Helen Vacation Bible School just to name a few! We also meet annually with our legislators during the Catholic Days at the Capitol. Every event, each project, results in fun and fellowship.
Time Commitment: We promote a variety of programs and projects, enabling each member to lead or participate as she chooses.
Meetings: St. Helen CCW meets the first or second Tuesday of the month from September – May at 9:30 a.m. at the Knights of Columbus Hall (923 19th Place, Vero Beach. Check the bulletin or newsletter for meeting specifics.
Contact: Mary Graves (President), 772-562-3072, E: marygraves.ccw@gmail.com or StHelenCCW@outlook.com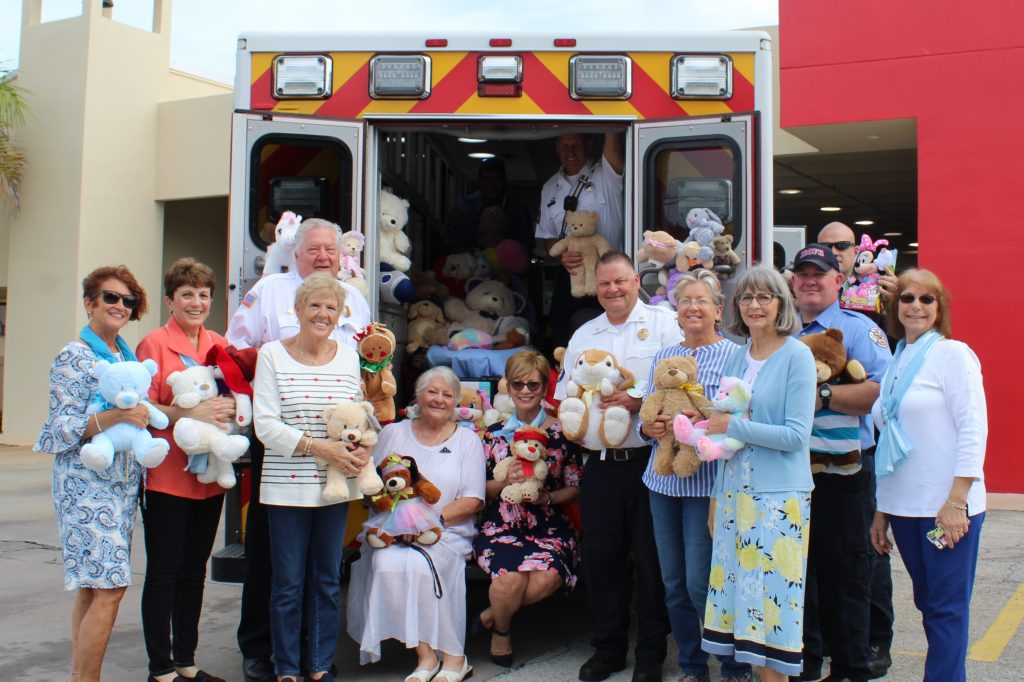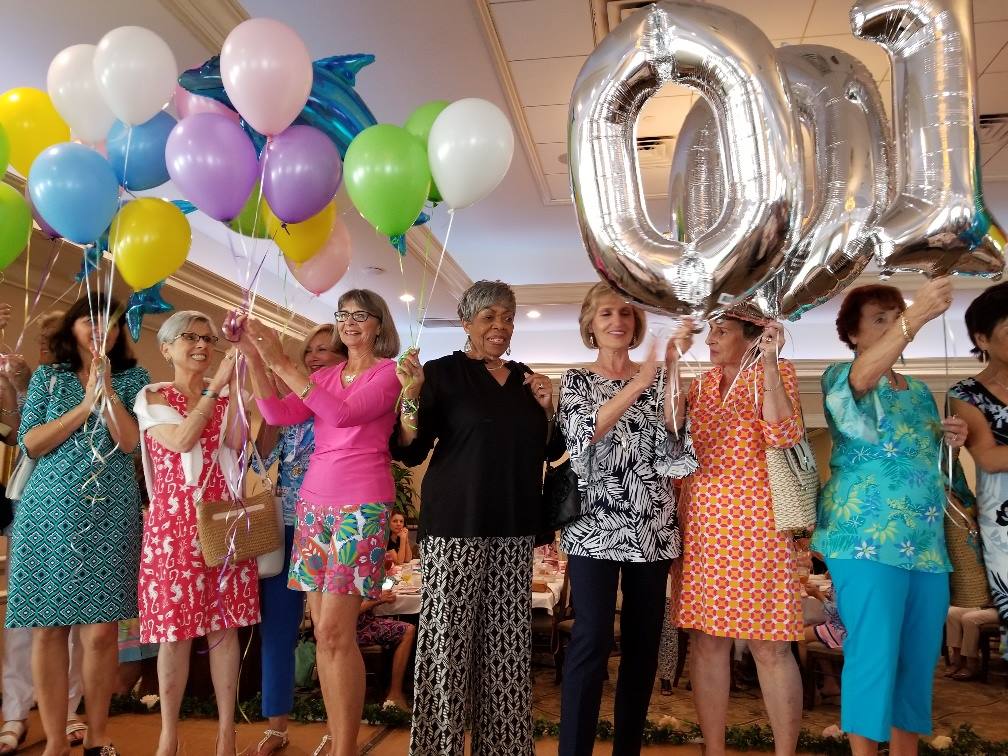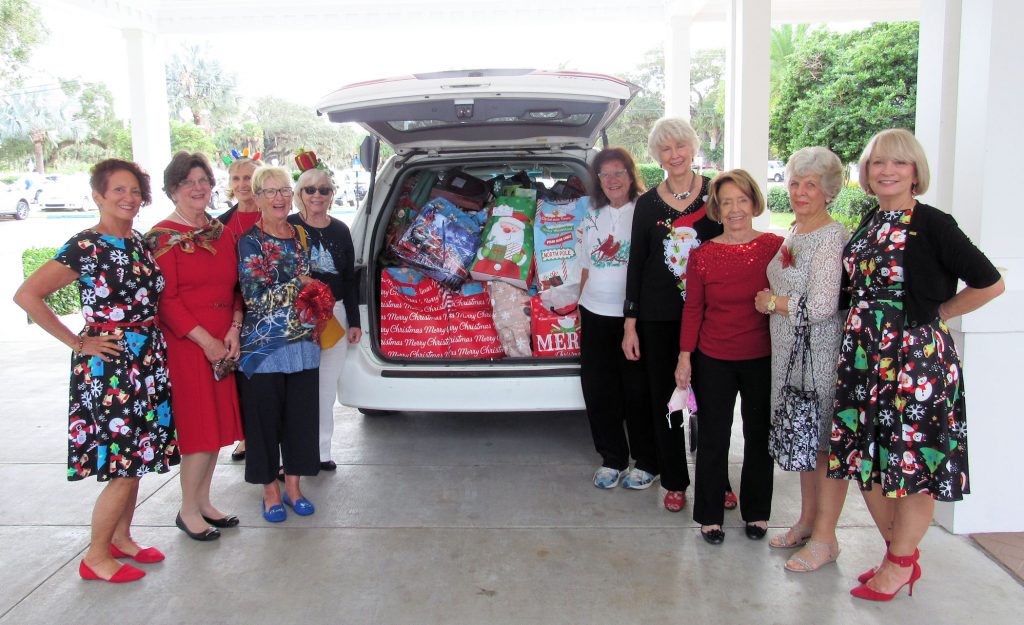 2021 / 2022 BOARD OF DIRECTORS
President: Mary Graves
Vice President: Janet Fraley
Treasurer: Ellen Elia
Recording Secretary: Kathi Inzano
Corresponding Secretary: Debbie Wegner

COMMITTEE CHAIRS
Spirituality: Janet Fraley
Leadership: Pat DiGeorge
Service: Patricia Smith
Parliamentarian: Kathy Morisette
Legislation / Respect Life: Susan Baldwin
Historian: Vita Rokaw
Deanery: Jacki Cammarene
Special Events: Karen Egan
Greeters
Purpose: Provide a friendly & warm greeting to all Parishioners.
Responsibilities: Welcome everyone with a smile and open the Church door for them.
Time Commitment: 15 minutes at the Mass you regularly attend.
Contact: Edwin Rojas at 772-321-7447, E: gluke241335@gmail.com
Hospitality Ministry
We are currently looking for someone to lead this ministry. We are open to new ideas. Please contact Deacon Dave or Laura Lewis at the parish office 567-5129, if you feel like you could help.
Purpose: Provides light refreshments after the 8:45 a.m. and 10:30 a.m. Masses September through May.
Responsibilities: Set up and break down hospitality station. Have a friendly and outgoing personality and ability to greet parishioners. Make coffee and pick up pastries. Time commitment is 5 hours on Sunday morning with alternating teams.
Contact:
Knights of Columbus: Fourth Degree – Fr. Charles D. Brady Assembly
Purpose: We are a faith filled, Cross-Council organization of the Knights of Columbus, designated as the Fourth Degree, the highest degree, embodying patriotism, to reflect the love of one's country. We also share with all Brother Knights the principles of Charity, Unity and Fraternity, bearing witness to the Gospel message of love through works of charity, by assisting those who are in need.
With true humility, we recognize that we are also unique, with diverse gifts from God and that as Christ's disciples, we are to develop these gifts of time, talent and treasure to nurture and strengthen our families, our community, our nation and our world. Our motivation follows Christ's example of charity and forgiveness so that the name – Knights of Columbus – will have a truly lasting meaning.
Responsibilities: Dedication to the Knights of Columbus principles of Charity, Unity, Fraternity and Patriotism; must be a third degree in good standing seeking membership.
Time Commitment: Two or three hours per month, additional time required for fundraisers or special events. Meetings are the last Thursday of each month, starting with the Holy Rosary, promptly at 11:30 a.m. at the Monsignor Nugent Hall, 923 19th Place, Vero Beach.
Contact: Ron Hunkapiller, Faithful Navigator, 914-536-0248, E: Rhunk49@gmail.com
Knights of Columbus: Mother of Perpetual Help / Council 5629
Purpose: Promote the principles of charity, fraternity, unity, and patriotism while providing considerable service to the parish and insurance benefits to fraternal members.
Responsibilities: Men's dedication to service and the Catholic faith. All council activities, fund raisers, special dinners, pancake breakfasts are highlighted in the weekly parish bulletin.
Time Commitment: Minimum of two hours per month plus volunteering as needed. Meetings are held the third Wednesday of every month. Dinner starts at 6 p.m., Rosary starts at 6:45 p.m. and meeting at 7:00 p.m. at the Monsignor Nugent Hall 923 19th Place, Vero Beach.
Contact: Ron Hunkapiller, 914-536-0248 E: rhunk49@gmail.com or Bill Wetzel, 321-615-7684, E: wetz@raegan.com
2021 MEETING DATES
July 21
August 18
September 15
October 20
November 17
December 15
2022 MEETING DATES
January 19
February 16
March 16
April 20
May 18
June 15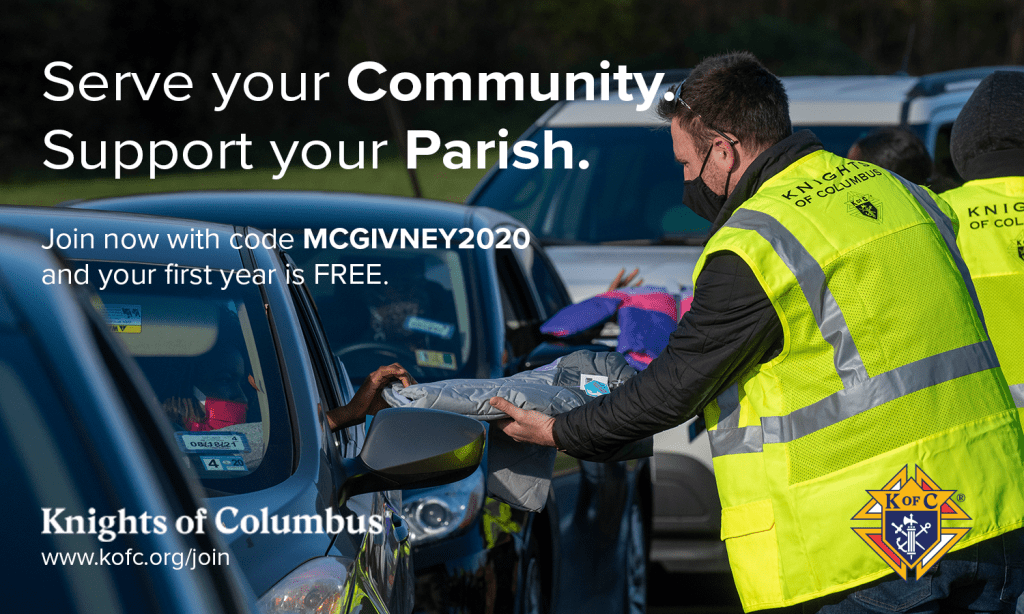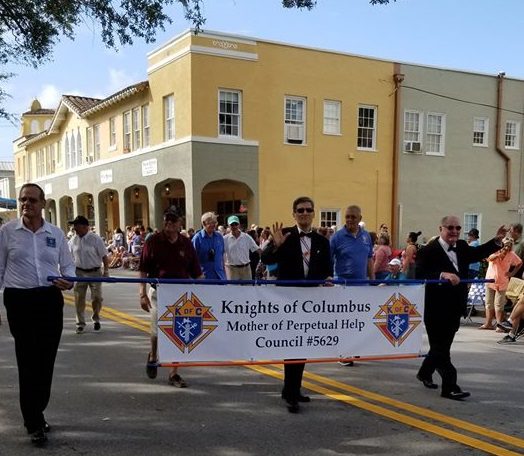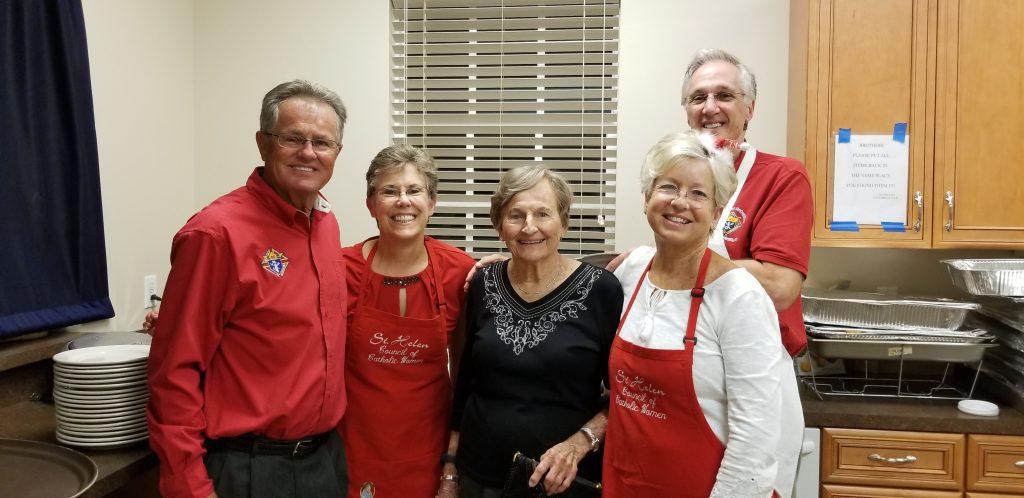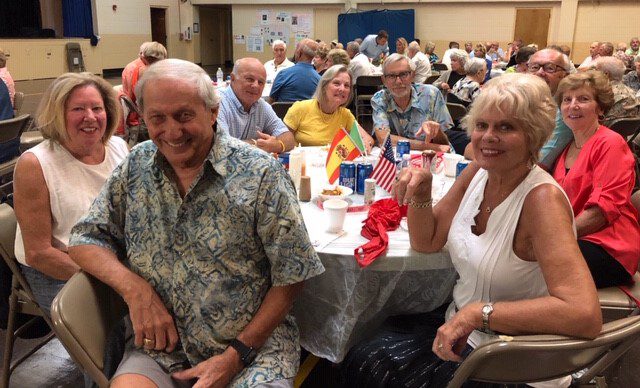 Ladybug Boutique
Purpose: Members meet as a craft group to make items to sell in support of St. Helen Catholic School.
Responsibilities: Sewing, painting, knitting, quilting and crafts.
Time Commitment: Ladybugs meet year round (except in December) on Wednesday mornings from 8:30 a.m. – 11:00 a.m. in the Cottage. We host a booth at the Harvest Festival and have sales throughout the year. There is no mandatory commitment, come when you want.
Contact: Karen Egan, 772-567-5660, E: Karen_Egan@att.net or Phyllis Gardiner, 772-643-6676, E: phyllisgardiner@bellsouth.net.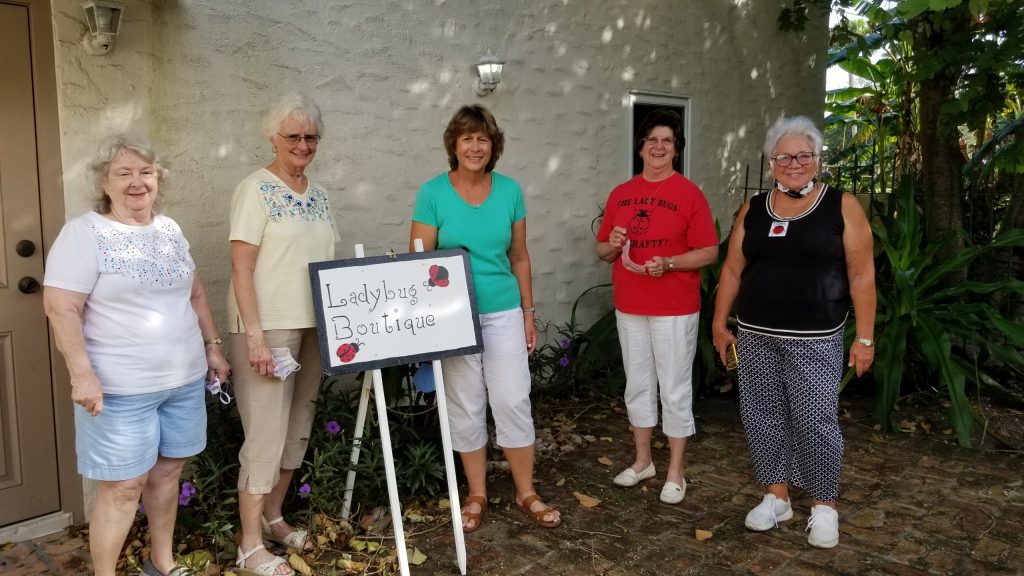 Marriage and Family Ministry
Purpose: The mission of the Marriage and Family Ministry is to enrich family life by providing programs and resources that offer information, education, healing and support. By working directly with families and in conjunction with the parish Religious Education Office, we are dedicated to assist in addressing the ever evolving needs of the families of our parish.
Responsibilities: Desire and interest to support the growing needs of families, be they spiritual, physical or emotional.
Time Commitment: Ability to work on various programs throughout the year with other active couples. Commitment can be limited based upon couple availability.
Contact: Paul and Patti Burgener, 772-999-3989 / 912-660-6663, E: pattieburgener@yahoo.com or Deacon Dave and Diane Hankle, 772-567-5129, E: dhankle@sthelenvero.org
Nursery
Purpose: Provide a safe, caring and playful environment for our youngest parishioners, thereby allowing parents to fully participate in Mass without worry.
Responsibilities: Committed, caring, patient and kind adult and student volunteers. Background screening & Diocesan Protecting God's Children certification provided.
Time Commitment: One – two Sundays per month for approximately 2 hours during the 10:30 a.m. Mass. Nursery is located in the school library.
Contact: Paige Fies, 772-562-5954, E: pfies@sthelenvero.org or Cynthia Boroczky, E: cynthiaboroczky@gmail.com
St. Helen Youth on a Mission
Purpose: Inviting high school students to a deeper focus based on the Beatitudes and Corporal Works of Mercy to serve others. A summer mission trip is planned each year in partnership with Catholic Heart Youth Camp or Alive in You organizations. High school students and young adults are invited to attend a summer Bahama Mission trip.
Talents Needed: Highly dedicated adults who demonstrate a personal commitment to Jesus Christ and devote their time and energy by being present to the needs of the teens. Leadership training, planning meetings and fundraising are needed to prepare for a successful mission trip.
Contacts: Richard Schlitt, ph# 772-562-2856, e-mail: RichSchlitt@gmail.com; Maureen Leu, ph# 772-473-8401, e-mail: mleu1964@gmail.com.
Young Adult Ministry
We welcome all young adults, ages 18-30s, Catholic or curious, who are seeking authentic community, honest conversation, shared adventures, and encouragement through the journey of being a Christ-follower in today's world.
We host a weekly Bible study and a monthly Theology on Tap, as well as various other events throughout the year. Members are also encouraged to consider serving as "big brothers and sisters" to the middle and high school youth ministries.
Please make sure that you are on our email list, added to our GroupMe texting group, or following us on Facebook for updated announcements:
Instagram: catholicyoungadultsvb
We are proud to partner with our neighboring parishes in bringing a monthly Theology on Tap to the Treasure Coast. Find more info here: https://www.facebook.com/TreasureCoastTOT/
Main contact: Kendel (Jordan) Quinlan at 772-494-9837 / kjordan@sthelenvero.org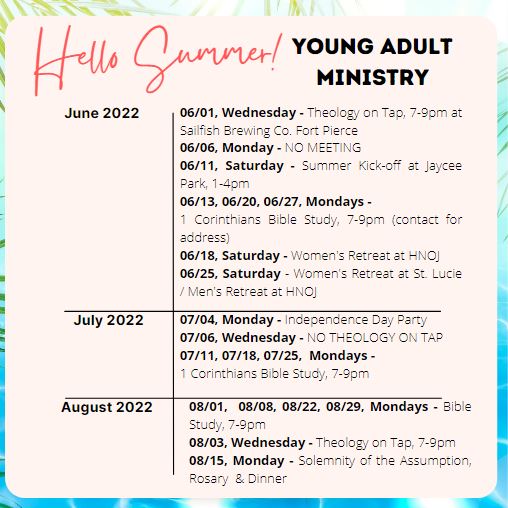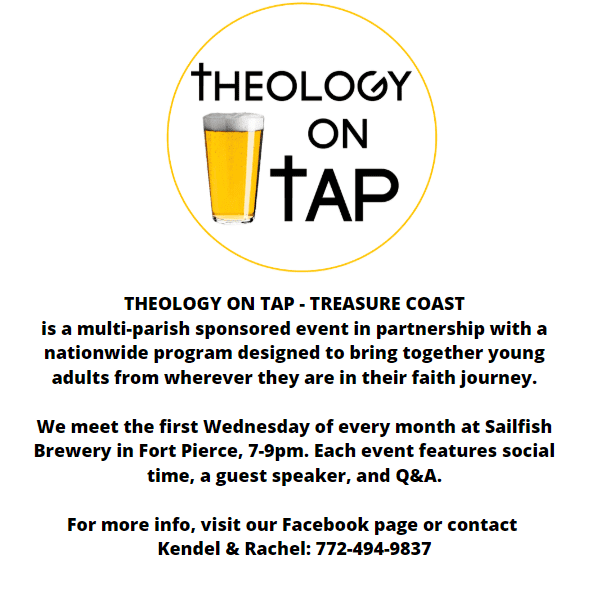 Youth Ministry
St. Helen Youth Ministry aims to be a Christ-centered, relational ministry accompanying young people on the path to intentional discipleship.
Starting in August (following Camp Don Bosco), Middle School & High School Youth (grades 6-12) are invited to meet in the parish center for an "after party" following the 5 p.m. Sunday Mass, including dinner and varying discussion topics and activities. These nights also include a monthly youth-led worship night with Adoration, praise & worship, and Reconciliation.
Wednesday nights all youth are also welcome to meet for an open gym night.
We host various other social, spiritual, and service opportunities throughout the year. The best way to stay informed is to join our email list. Contact: Kendel (Jordan) Quinlan at 772-494-9837, E: kjordan@sthelenvero.org
Volunteers: We need prayer warriors, musicians, meal donations, event set-up, and mentors/discipleship leaders. Contact us to learn how you can help!
Instagram: shvbyouth
GroupMe texting group – ask to join!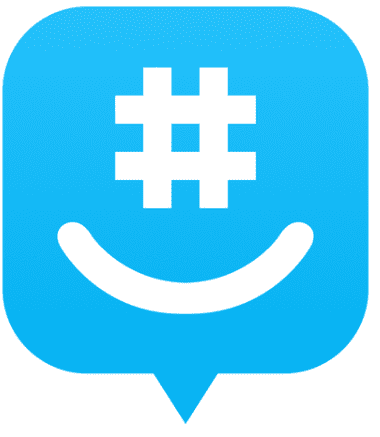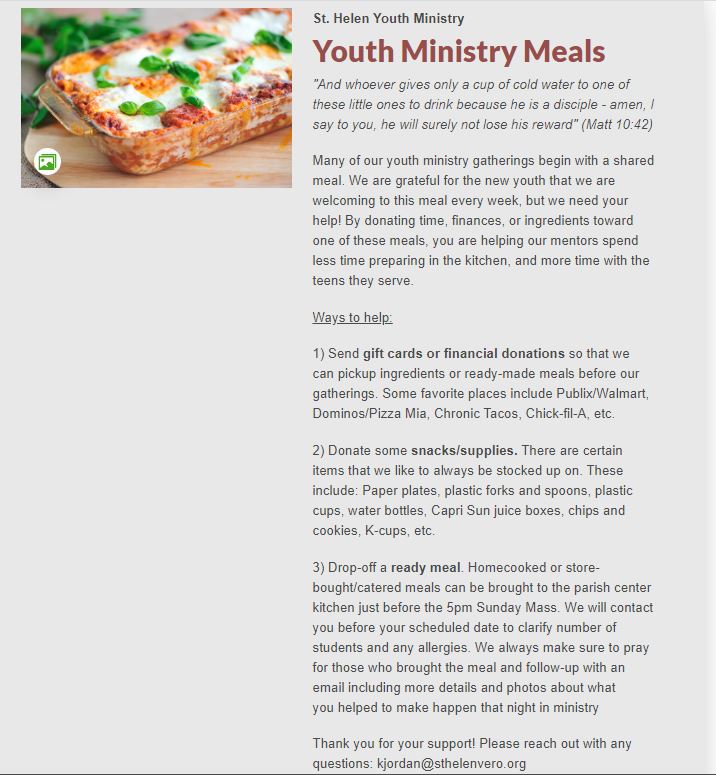 Meal Ministry Sign-Up: