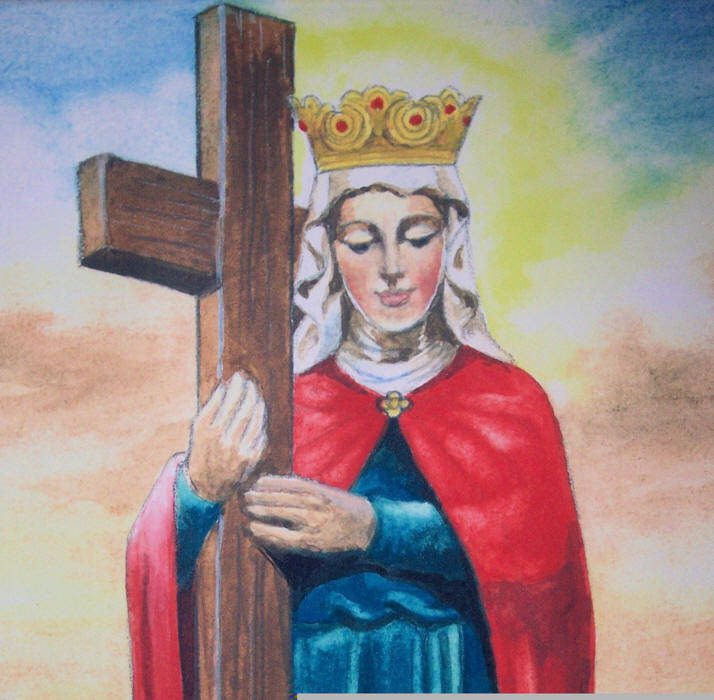 Patroness of Our Parish
Feast Day: August 18
St. Helen was the mother of St. Constantine the Great and was born at Drepanum in Asia Minor to parents of humble means. She married Constantius Chiorus, and their son Constantine was born in 274. Constantius divorced her in 294 in order to further his political ambitions by marrying a woman of noble rank.
Helen was abandoned and left to live in exile: she suffered alone for many years. In 306, Constantius died and Constantine became Emperor. Constantine declared Helen an Empress and titled her Augusta. She used her high position and wealth in the service of her religious enthusiasm and helped build churches throughout the empire. She was noted for her selflessness and generosity. Helen gave tirelessly to the church, prisoners, and the poor. In 324, Constantine had a great desire to find the True Cross, so at the age of 80, Helen led a group to the Holy Land to search for the Cross. She learned that the Cross was believed to be buried at the Temple of Venus. She ordered the pagan temple demolished and in the process, the tomb of Jesus was uncovered, as well as three crosses close at hand. In order to determine the cross on which the Savior had been crucified, she took the crosses to a woman afflicted with an incurable disease and had her touch each one. One of them immediately cured her and it was pronounced the True Cross.
While in Jerusalem, St. Helen performed a variety of good works, including giving money to the poor. She also ordered that all places connected with the life of the Lord and His Mother be free of all traces of paganism and directed that churches be built at each of these places. She gave the Cross to the Patriarch of Jerusalem for safe-keeping and took part of the wood and nails back to Constantinople.
St. Helen continued her journey to the holy places, building over eighty churches; at Bethlehem, the birthplace of Christ, on the Mount of Olives, and at Gethsemane where the Lord prayed before His sufferings and where the Mother of God was presumably buried. Emperor Constantine gave orders to build a church in honor of the Resurrection of Christ, but St. Helen did not survive to see the dedication of this temple. She died in 327. The church was completed in 335.
In art, St. Helen is shown holding the Cross as you can see from many statues and pictures that we display of our parish patroness.